Azienda Agricola La Lama
Wines
From the selection of the best grapes these three labels are born, which thanks to the modest size of our vineyards can be worked with dedication and passion from harvesting to barrel aging.
Our vineyards are exposed south-west and south-est. The land is hilly, deep, fresh, well drained, a mix between sand and stones.
The geopedological characteristics are: relatively deep, fresh, well-drained soil, of a silty-sandy nature. Discreetly endowed with limestone, with evident presence of pebbly skeleton of boulder, alberese and galestro.
NEW OPENING

"Agriturismo LA LAMA"
You can relax and enjoy all the experiences that the Sienese countryside can offer you: walks, bike rides, tastings of our products.
After years of preparation, the bottling of the Chianti Classico, the Chianti Classico Reserve and the IGT was reached. The small size of the company (the vineyards do not exceed two hectares), allow special attention to the grapes, from flowering (from the formation, i.e. of the caliptra) to the harvest and, therefore, subsequently, up to the racking phase.
Tasting our wines you will feel the scent of the breezes of our land and the aroma of the vineyards in fruit, in the glass you will discover the colors of the sunset on the Chianti hills on an imaginary and unforgettable journey in the Sienese countryside.
Campani Family crest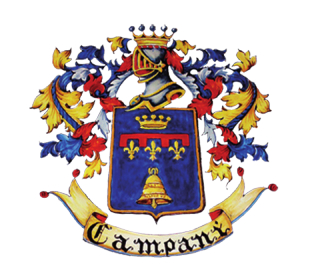 La Lama Winery House
Giulio Campani, bought in the 1969 the farm in order to realize his passion for grapes and olive plants. Since that year Campani Family have dedicated to improve the farm and to make it competitivein the wine overview. After years of work we have arrived to bottle up: Chianti Classico Sottolaia, Chianti Classico Riserva Terzo Movimento and I.G.T. Caliptra. Even if the processing techniques are cutting-edge, everything is taken care from owners.